Trinity United
Kars, ON, Canada
www.TrinityUnited.org
Mission Statement
To be an active Christian presence in our community.
Vision Statement
Our mission statement reflects who we are and who we want to be. We are active in the community. We want to sustain and grow that Christian presence through listening and responding. We want to thrive and be valued in the community. Therefore, our vision is for growth in the following areas:
people participating in our church's worship;
pastoral and spiritual care;
activities for all ages, with emphasis on the Sunday school and for the youth;
communication and collaboration with the community, its groups and leaders;
identifying and responding to the needs and issues of the community;
people and groups utilizing our church facilities;
financial support.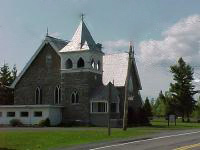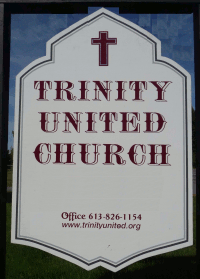 Messages from our minister, Rev. Grant McNeil:
Important message from the chair of the OKPC Official Board:
Keep in touch with the latest news and discussions by:
Calendar of services, meetings and events:
Upcoming activities (see here for past events):
Regular 2018-2019 Services
June 16 to June 23, 2019 - 10:00am - Trinity United Church
July 2, 2019 - 7:00pm - Trinity United Church (in place of June 30)
July 7 to July 28, 2019 - 10:00am - Trinity United Church
August 6, 2019 - 7:00pm - St. James (in place of August 4)
August 11 to September 22, 2019 - 10:00am - St. James
Events
Home alone classes:
Babysitting classes:
Vesey Seeds Fundraiser: We are selling seeds and bulbs as a fundraiser in support of our church. For more information or for a catalogue, please contact Will Pearl (613-518-7668).
View Larger Map
A short airborne view of our church is on YouTube.